The History of the M1 Garand
John Garand
John Garand

---
---
---
---
---
John Cantius Garand was born on New Year's Day, 1888, in Saint-Rémy, Quebec. The family moved to Connecticut in 1898, and at the age of 11 John Garand started working in a textile mill, learning from the mill's machinists. He moved to tool-making, and his hobby of target shooting and gun design led to a career in which he developed one of the U.S. military's most successful infantry weapons.
Saint-Rémy, Quebec, was a small place. It was only incorporated as a town in 1975, and its population in 2006 was just 6,136. Saint-Rémy is on the far southern edge of Quebec, in the Montérégie region south of Montréal and just north of the northern edge of New York. It's an almost exclusively French-speaking place — 96.06% of the population reported speaking nothing but French in the 2006 census.
That immediately leads to the question: How do you pronounce "Garand"?
Most people pronounce it as guh-RAND, or in IPA, [gƏ 'rænd].
I had read that John Garand himself, along with his family, preferred that it be pronounced so as to rhyme with "errand", GEHR-and. However, someone recently contacted me with an interesting message:
As a volunteer for the National Park Service at Springfield Armory National Historic Site, I have had the honor of speaking with John Garand's son, Richard, on a number of occasions. Naturally, the first time I met him, I asked the obvious question—How do you pronounce your name? He answered that the family pronounced it guh-RAND.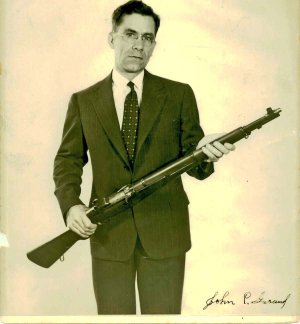 Strictly speaking, the people back home in Saint-Rémy would say that both guh-RAND and GEHR-and are wrong — all the Garands in North America are descended from Pierre Garand, who lived from about 1643 to 1700 in Rouen, France. The real pronunciation of that French family name has a final nasal "a", sort of gahr-ON, or [garɑ~] in IPA.
The Garand family, however you pronounce their name, moved from Saint-Rémy to rural Connecticut in 1898, when John was ten years old. He attended school for just another year, only until the age of 11, and then started working in a Connecticut textile mill. He started as a floor sweeper, but learned as much as he could from the mill's machinists.
He was eventually promoted to the position of machinist at the textile mill. During his time there he patented both a telescopic screw jack and an automatic bobbin winding machine.
He gained more experience and was took a position with Brown and Sharpe, a tool-making company in Providence, Rhode Island.
Along the way he had developed an interest in target shooting, and this, along with his expertise with machining, led to a hobby of designing guns. That hobby turned into the career for which he is famous.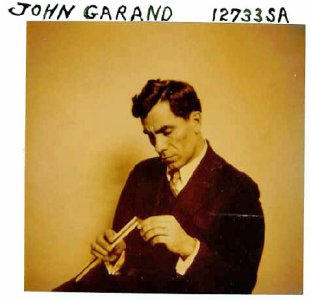 World War I had started in the summer of 1914, and by 1917 the United States was about to become fully involved. There were many new technological developments in this war — tanks, poison gas, and the common use of machine guns. The U.S. Army announced that it was taking bids on a new design for a light machine gun. This announcement caught Garand's interest.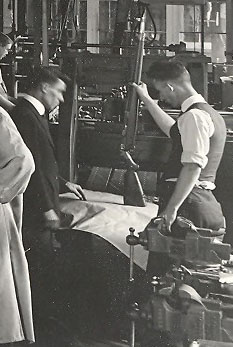 He was working in New York City by this time. Garand made a deal with another gun designer, John Kewish. Kewish paid Garand $50 per week, and promised to develop Garand's design. In June 1918, they demonstrated their first prototype to Hudson Maxim, the brother of Hiram Maxim, the prominent gun designer. Hudson Maxim recommended that they demonstrate their design to the Naval Consulting Board. The NCB in turn referred them to the Army War College, which eventually led to the Ordnance Department, which turned them down.
They went back to the Naval Consulting Board, which sent them on to the National Bureau of Standards. The NBS paid Garand and another machinist $35 per week (with Kewish paying each another $15) and allowed them to use the NBS machine shop to further develop and improve the design. This started in August 1818, just three months before the end of World War I in November, 1918.
The first model of the final design was finally built in 1919, close to a year after the end of the war, but the U.S. War Department appreciated his talent.
Garand was given a position in November, 1919 as a consulting engineer at the Springfield Armory, in Springfield, Massachusetts. He became a U.S. citizen after taking that position, and rose to the position of Chief Civilian Engineer.
Here you see the model shop, the experimental shop in which Garand and his team developed his innovative designs from the 1920s until Garand's retirement in 1953. Notice all the overhead belt power!
Garand can be seen at the far right background, a small detail of which appears above. He is examining a prototype Model 1922 and pointing to drawings of his design.