ČZ-52 Safety Notes
ČZ-52 Safety
The basic laws of firearms safety
A gun is always loaded.
If you believe that the gun is unloaded, see the first law.
Never point the gun at anything you do not wish to shoot.
Never put your finger on the trigger until you are ready to engage the target.
Know your target and what is beyond.
Safety / decocker operation and safety issues
The Czech ČZ-52 pistol has a manual safety lever on the left side, where can be operated by a right-handed shooter's thumb.
As usual, it is in "safe" mode when the lever is up, and you rotate it down to fire the weapon.
However, unlike pistols like the M1911, the lever extends back from its pivot instead of forward. This places the safety lever much closer to the hammer than to the trigger.
The original ČZ-52 design included a rather ineffective firing pin block that becomes less trustworthy with wear. Remember that this is a surplus weapon built in the early 1950s, and it has seen an unknown amount of use before you bought it. The only safe assumption is that it is worn! The safety should not be trusted
The safety is intended to disable the trigger, but if the gun were dropped there is a chance that the hammer could fall and strike the firing pin. The ČZ-52 should not be carried with a round in the chamber.
For what it's worth, the ČZ-52 safety has 3 settings:
Fire (rotated all the way down)
Safe (horizontal, hammer stays back)
Decock (rotate up, returns to "safe") This decocking function should not be trusted.
However, that decocking function is even more dangerous than trusting the safety to prevent firing if dropped.
When the decocking notch becomes worn, the motion of the decocker may raise the firing pin detent and that has the same effect as pulling the trigger in the "Fire" position!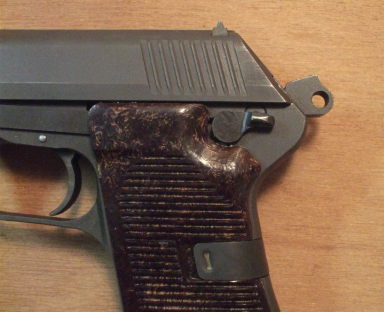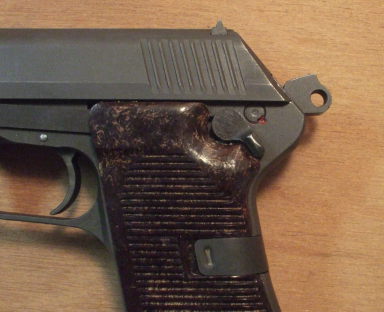 Do not rely on the decocking mechanism to safely decock the ČZ-52. If your decocking notch is worn, and it probably is, your pistol will likely fire when decocked.
People have devised what has come to be known as the "pencil test" of a ČZ-52 decocker. It can warn you if your decocker is defective:
Put a pencil into the barrel, eraser-end first. Activate the decocker. If the pencil moves at all, the decocker is basically a trigger!
However, it would safest to assume that the decocking function is likely to fire the weapon, and to carefully lower the hammer manually.
Here are some pictures of the ČZ-52 frame showing the safety, hammer, and surroundings.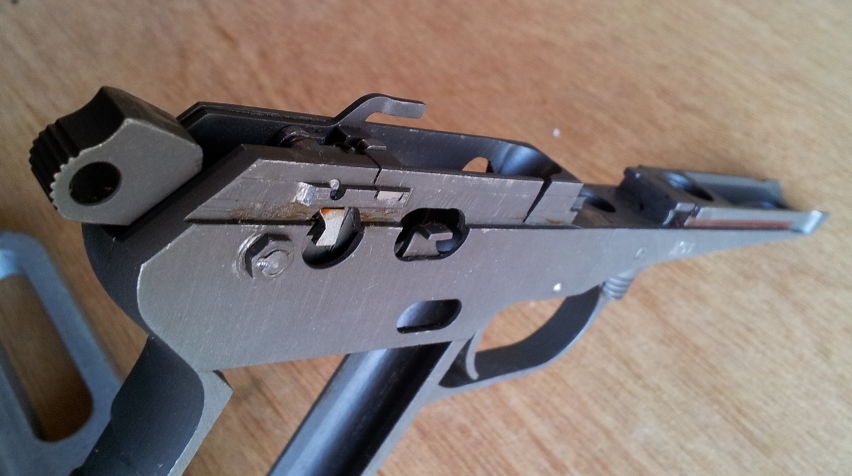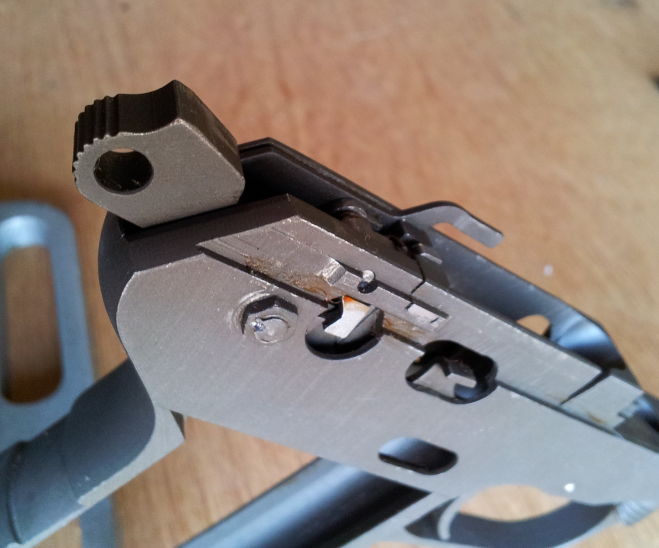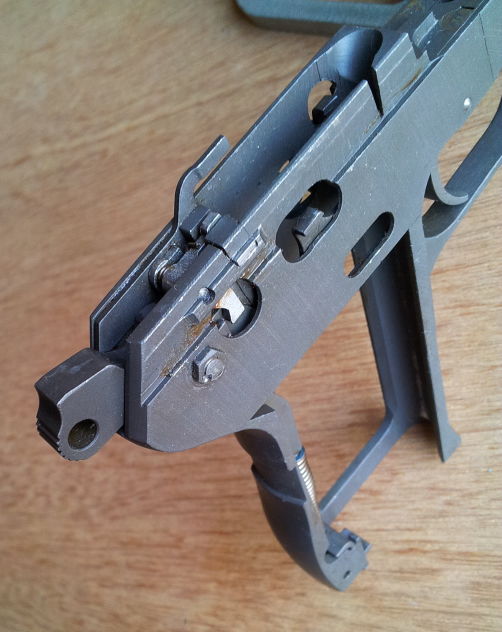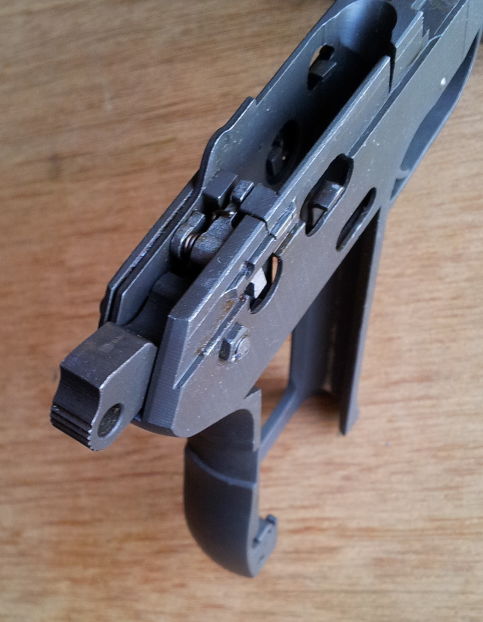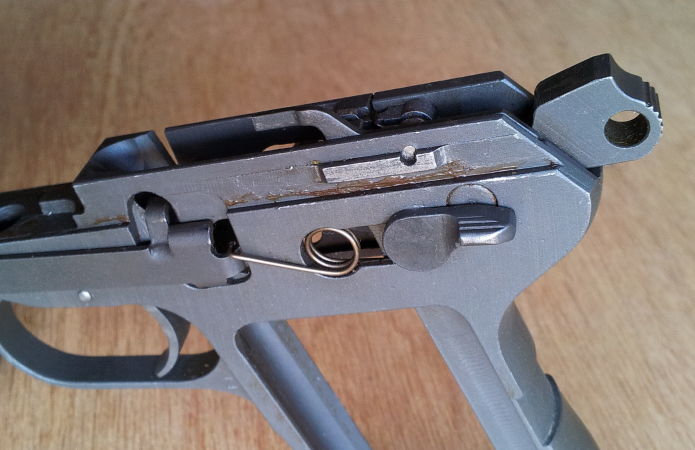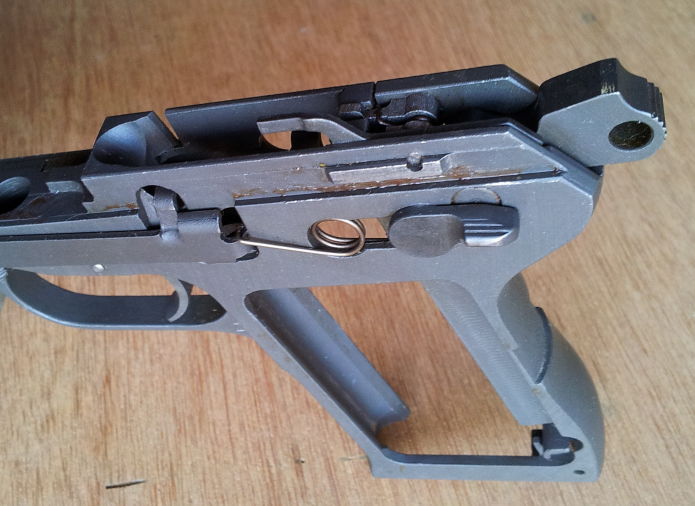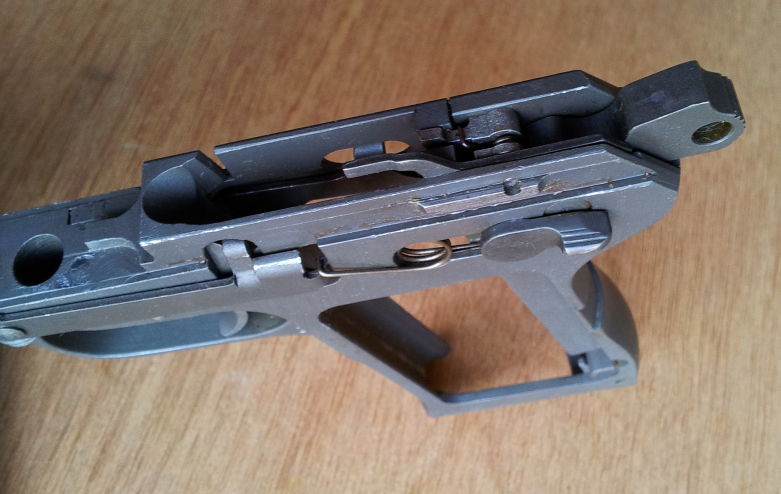 ---