Assembling an M1 Garand Rifle From Parts
Finding the Manuals
How to Find Official U.S. Army Manuals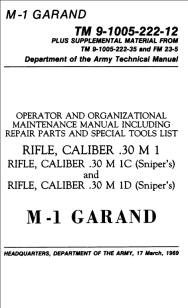 The 90th Infantry Division Preservation Group has a great collection of manuals!
If they don't have what you're looking for, learn to use more advanced searching at Google! Here are some examples and jumping-off points for Google searches for M1 Garand manuals and much more:
TM 9-1005-222-12
Its rather long title is:
"Operator and Organizational Maintenance Manual Including Repair Parts and Special Tools List / Rifle, Caliber .30 M1 / Rifle, Caliber .30 M1C (Sniper's) / Rifle, Caliber .30 M1D (Sniper's) / M-1 Garand"
"TM" means "Technical Manual", it's what it sounds like. A manual describing in technical detail how to do things when you're back at base with resources at hand. Ask Google to find it for you:
FM 23-5
has the shorter title:
"U.S. Rifle Caliber .30, M1"
"FM" means "Field Manual" with the emphasis on "Field". This is a description for the men in the field — how do you really use the thing in a practical setting. Ask Google to find it for you:
---
Manuals and U.S. Army Training Films at archive.org
Video: Marksmanship With the M1 Rifle — Preparatory Training
Book: How to Shoot the U.S. Army Rifle, companion to the above film.
Book: SMALL ARMS INSTRUCTOR'S MANUAL, An Intensive Course, including 1917 Enfield, 1903 Springfield, 1898 Krag, M1911 pistol, revolvers, etc., compiled by the Small Arms Instruction Corps, 1918.
UNITED STATES RIFLES AND MACHINE GUNS, Fred Colvin and Ethan Viall, 1917.
---
Books
---
DVDs
---
Other Sources of Information
Nicolaus Associates sells a large collection of reprints of manuals, diagrams, and more, some of them the result of meticulous restoration.
The ODCMP Coaching Resources page has lots of very useful target shooting information, including tips from the U.S. Army Service Rifle Team and much more: http://www.odcmp.com/Training/CoachingResources.htm
Also see this useful page: http://www.surplusrifle.com/garand/
And this one with Flash animations of the M1 action, trigger group, and feeding cycle: http://www.garandflash.com/
The Wikipedia page has useful information on the design and history.
See Steve Ricciardelli's site with:
M1 Garand Specifications
Weight
9.5 pounds / 4.3 kg
Length
43.6 inches / 1.107 m
Cartridge
.30-06 Springfield
Barrel Length
24 inches / 610 mm
Sight Radius
27.9 inches / 709 mm
Rifling
Right-hand, two grooves,
pitch of 1 turn in 10 inches / 254 mm
Trigger Pull
5.5—7.5 pounds / 2.5—3.4 kg
Muzzle Velocity
2,750—2,800 ft/sec / 838—853 m/sec
Here is a mediafire.com page containing:
Accurize_The_M1_Rifle.pdf 248.97 KB
Enfield_Springfield.pdf 456.63 KB
GuidebookForMarines_Ch12_The_Pistol.pdf 556.12 KB
GuidebookForMarines_Ch15_M1-Rifle.pdf 1.41 MB
GuidebookForMarines_Ch16_M1-Carbine.pdf 4.19 MB
GuidebookForMarines_Ch17_The_Automatic_Rifle.pdf 938.35 KB
M1 Garand Clips.pdf 1.03 MB
M1 Trigger.pdf 304.22 KB
M1_Garand_Postwar_SA_bolt_heat_lot_dates.pdf 12.57 KB
M1_Garand_WW2_Springfield_Armory_Bolt_Heat_Lot_Dates.pdf 11.16 KB
MCRP 3-01A USMC Rifle Marksmanship.pdf 6.81 MB
Single Load Enhancement Device.rtf 6.06 MB
TB9X-115_Complete_interim.pdf 1.94 MB
TM9-1005-222-12.pdf 4.94 MB
TM9-1276_1947v2.1.pdf 4.07 MB
TM9-270_1943.pdf 1.28 MB
US_Rifle_Caliber_30_M1.pdf 1.04 MB